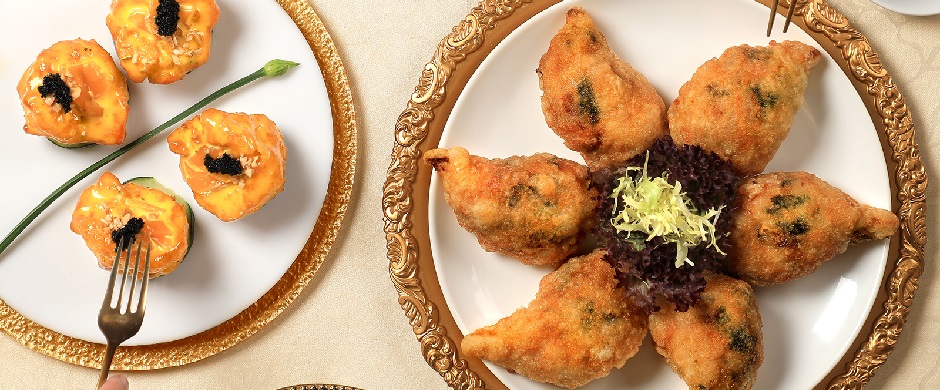 Celebrate 45th Anniversary of Tsui Hang Village with Classic Gourmet Delight
To celebrate 45th anniversary, Tsui Hang Village proudly presents the Classic Gourmet Delight, which consists of three categories, Award-Winning Delicacies, Nostalgic Delicacies and Modern Signature Delicacies.
You can also savor the Classic Gourmet Set Menu which includes three of the most iconic dishes from Classic Gourmet Delight: Crisp Rolls with minced pork and chicken, Duck braised with eight delicacies and Prawns sautéed with mango sauce and topped with black caviar, together with Suckling pig platter, Pig's lung soup double-boiled with pork loin and almond cream, Minced pork sautéed with shredded green and red peppers enhanced with preserved vegetables and dessert. The Classic Set Menu will be available at $1,388 for four persons during dinner session. Reservation is required.
Classic Gourmet Delight and Classic Gourmet Set Menu will be available at three branches of Tsui Hang Village from 13 March 2018.
Click Here to View the Classic Gourmet Set and Special Recommendations Set Menu
Click Here to View the Classic Gourmet Delight a la carte Menu
*10% service charge applies.
*This promotion menu cannot be enjoyed in conjunction with Tsui Hang Plus offers and any other discount offers
———-
Tsui Hang Village (Causeway Bay)
22/F, Lee Theatre, 99 Percival Street, Hong Kong
Reservations: +852 2409 4822
Learn more about the restaurant
Tsui Hang Village (Central)
2/F, New World Tower, 16-18 Queen's Road Central, Hong Kong
Reservations: +852 2524 2012
Learn more about the restaurant
Tsui Hang Village (Tsimshatsui)
5/F, Mira Place 1, 132 Nathan Road, Kowloon
Reservations: +852 2376 2882
Learn more about the restaurant